I discovered the "Lock dimensions" feature today while crafting images for Product Hunt. I really liked how I could set the dimensions for what the final image needed to be and then adjust the crop size and Acorn took care of resizing things automagically. A really nice touch!

Unfortunately I'm not able to preserve the locked dimensions setting when saving to a Preset. When I try cropping the next image with the saved preset it uses the size of the previously cropped image before it was resized. The locked checkbox is also no longer selected. Here's some before and after screenshots.
Crop attributes before saving preset w/ locked dimensions
@see https://dsc.cloud/28e490/CleanShot-2021-06-10-at-13.47.54-2x-YohJ8xpJMHpX.png as I can't embed more than one image as a new user.
Restored crop attributes when using preset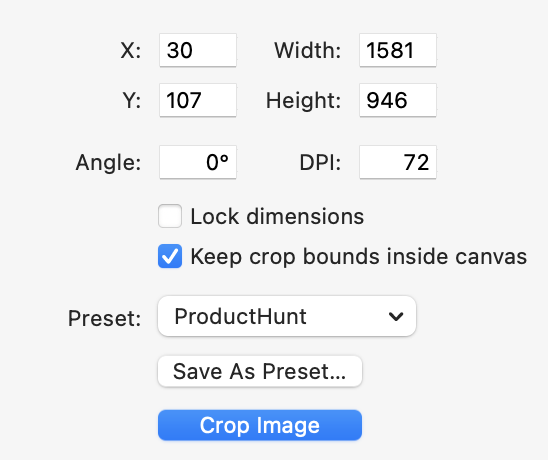 Hopefully I'm either doing something wrong or this is an easy bug to fix as I love presets and they make my life so much easier.
Thank you for creating Acorn and your constant love and attention to push it endlessly forward.

++dave;