Hello again,

I'm using the rectangle select tool and overall I like it as I'm able to "subtract" parts from it using option-click. Very slick. There is a use case however where I find this extra power gets in the way of doing something super simple: setting the origin and dimensions of the selection. I'm often zoomed in 300% or more trying to get the perfect selection box and need to make it a bit wider. As far as I've found so far that's not possible. Something similar to the Crop tool where I can edit the (x,y) and width&height is what I'm looking for.
I see I can use the arrow keys to move the selection. That is very good and super helpful so I gotta imagine you have a hidden trick for the width and height tucked away somewhere.
Related question: often I want to move the selection on the X or Y plane and nothing else. Is this possible? I only found how to do this with the mouse (while holding ⌘) but my dexterity is shit so I'm hoping there's a way to do so with the arrow keys.
Thanks in advance!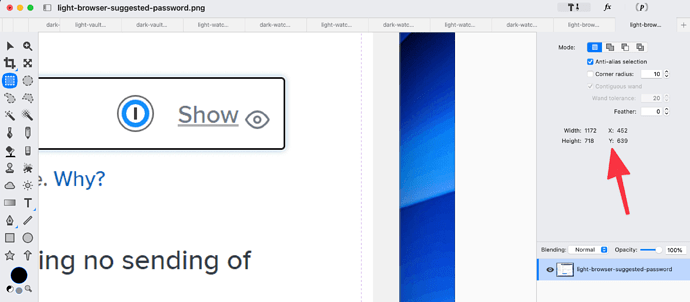 ++dave;