Hello, I've been using Acorn for 1.5 years now and just love it. Came over from Photoshop, and never has a program solved so many of the problems I was hoping for a graphic program to solve. I've got a list of requests for new features, or if I've messed up somehow, corrections on things I'm doing wrong.
I'm using Version 7.3b2 (16159) on a fully updated Mac Studio running Mac OS 12.6.
First of all, if there's a way to define text styles (including filters) so I have them handy when I need them, I'm not finding it. I often need to make memes, or make fake subtitles for anime and would love to have styles pre-made. Please tell me if I am missing this somewhere.
1.1. Since there seem to be no customizable text styles, I got into the habit of hiding a pre-formatted text clip inside a document I was using, below the main layer. But checking these text boxes now, they seem to be non-editable (rasterized). Is there a reason this would have happened?
One of the biggest difficulties coming to Acorn from Photoshop was the lack of an Auto Select Layer option, which essentially allows you to be doing something (text or whatever) but by holding command and clicking an element, you select that whole layer. Would something like this be able to be considered in the future?

There appears to be no Paste and Match Style available in the program?

There appears to be no way to draw an arrow?

One of the biggest requests I would like to make (and have made) is to have a way to customize the tool keypresses. It was nice in Photoshop to be able to customize things so they were more logical, and no multiple presses were required to get tools I needed to come up.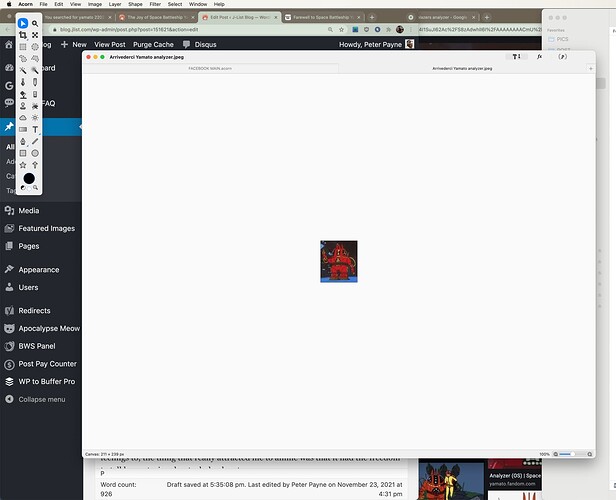 It's quite often that Acorn will open my document and it will be zoomed "strangely," either with the image tiny in a large window, or with the window made too small and the workspace zoomed way up. Does anyone else notice this kind of issue? The image is quiet large, but is displayed very small, as if I'd zoomed it out on purpose or something.